History
History of the Forest Hotel Peršlák
The first mention of a settlement in the vicinity of our hotel dates back to 1359, when monks founded the Novomlýnský pond. In 1419, the miller Markhold hid Jan Žižka in an old mill, and the pub in this place was first mentioned in 1580. Another important event occurred in 1635 when a new mill was built, thanks to which the pond behind the hotel was named "Nové Mlýny"(New Mills). The German and Czech speaking communities lived here in peace for long centuries side by side until 1938, when this territory was affiliated to the German Reich and was seceded from Czechoslovakia. To the south of our pond, there was a village until 1953. There were several peasant houses, a mill, a pub and a gamekeeper's lodge. Following the displacement of the population, these buildings were destroyed because they were located too close to the border of Czechoslovakia.
The Forest Hotel Peršlák building was built in the 1920's and served as a financial guard of the Czech Republic. During the Second World War, the German army stayed here, as did children from German Nazi youth organizations in the following years. After 1945, they were replaced again by the Financial Guard garrison. In 1951, Border Guard troops settled here and unfortunately stayed here until 1989. Since the "Company Peršlák" was located off the main roads, the attempts to cross the state border were rather sporadic and fortunately were never fatal.
In 1991, the former barracks were discovered by Mrs. Hauser, who had emigrated to Austria after the Warsaw Pact invasion in 1968. After long negotiations, she finally managed to buy the building, and in 1992 its reconstruction into a hotel began. On July 1, 1994, we welcomed our first guests. Since day one, our goal has been to offer to our visitors everything they need for perfect relaxation and to gain new energy. The hotel offers 20 rooms (59 beds) in its large complex. In addition to double and triple rooms, you can also choose luxury suites for your stay. And, of course, sanitary facilities, satellite TV, minibar and a phone in the rooms are a MUST. There is also free internet access via Wi-Fi. We hope that you will feel comfortable in our cozy restaurant with tiled stove and in our summer garden.
You can also use the hotel pond with a sandy beach and boats for relaxation. In the winter you can skate on the frozen pond or use the cross-country tracks right outside the hotel to improve your physical condition. For fans of hot relaxation, there is also a sauna with a refreshing swimming pool. The Forest Hotel Peršlák is also an ideal venue for corporate events, celebrations, outdoor activities, weddings, graduation, and birthday parties.
Near the hotel, you will find also numerous historical monuments such as Landstejn castle, the castle in Jindřichův Hradec, or the Heidenreichstein water castle on both sides of the Czech and Austrian borders.
The Forest Hotel Peršlák is worth visiting all year round and at any occasion!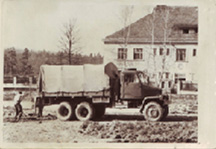 Border guards during maintenance work around 1965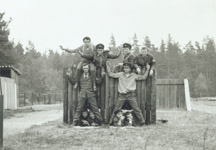 Because it was strictly forbidden to take photos, such pictures are very rare. Soldiers in conscript service 1976.